Lecture
02/15/2022
Online
Understanding Shinto and the Roles of Shrines in Local Community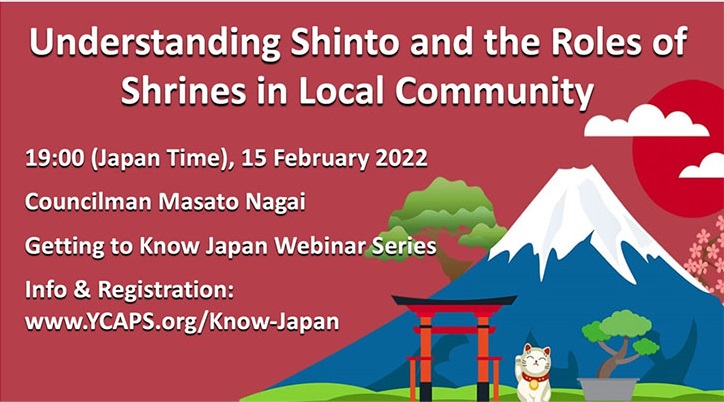 Time & Location
February 15, 5am EST (7pm JST)
Online
About
The Yokosuka Council on Asia-Pacific Studies (YCAPS) presents a weekly webinar series on Japanese culture and society,
Getting to Know Japan Series
. Shinto priest and Yokosuka City councilman
Masato Nagai
will lead an introductory session on Shinto, beginning with the fundamentals of Shinto culture before transitioning to discussing its roles in present day communities.
Click here to register. Visit the YCAPS website to learn more.
The webinar series is supported through the CGP Salary Assistant Grant for U.S.-Japan Community Grassroots Exchange Program.
Speaker Born to a Shinto family, Masato Nagai is a Shinto priest dedicated to two of the shrines located in Yokosuka, the Kamoi Hachiman and Kano shrines. He graduated from the Tokyo Institute of Technology with a Bachelor of Science in Enterprise Systems Engineering in 2000. He began his political career in 2011, running in local elections to care for his community. This is his third term working as a Yokosuka City councilman.