Donated Masks in Action
Spring/Summer 2021
We are pleased to provide an update on the donation of winning masks. CGP has donated over 1,000 masks to thirty-one Japan-related organizations, many of these masks have been distributed and worn at community events like garden clean-ups, tea ceremony demonstrations, and film screenings. You can scroll through the gallery below to see photos from these events. Please check back throughout the summer for more photos.
Photos of Donated Masks in Action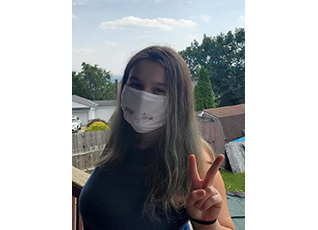 Japan-America Society of Pennsylvania
Saitama X Pittsburgh Building Bridges Program
Photo Courtesy of:
Taylor Rawls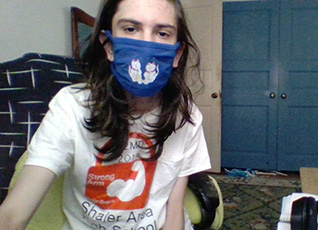 Japan-America Society of Pennsylvania
Saitama X Pittsburgh Building Bridges Program
Photo Courtesy of:
Nick Magoun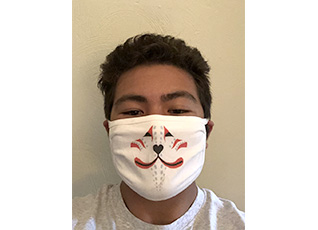 Japan-America Society of Pennsylvania
Saitama X Pittsburgh Building Bridges Program
Photo Courtesy of:
Seiya Iyobe
Nine Winning Designs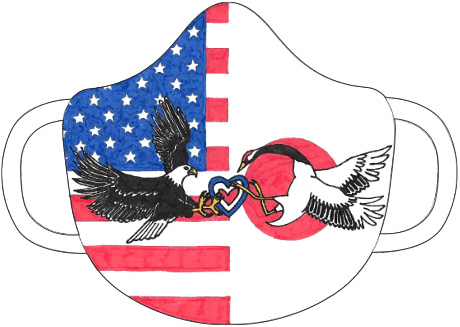 2. 絆 (Kizuna)
Selected by Popular Vote
The bald eagle represents strength while the Japanese crane symbolizes hope. Although these birds differ in many ways, they are both powerful symbols that represent some important values of the American and Japanese culture. Much like these birds, the United States and Japan are vastly different, but together they work in unity to bring hope and strength to the world. The bonds of friendship (kizuna) can overcome many obstacles.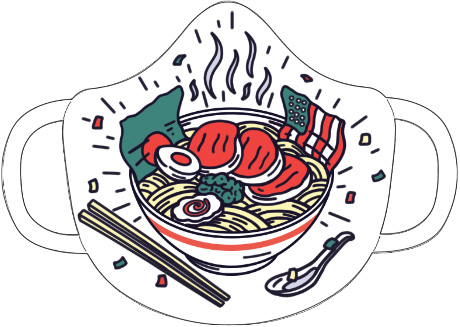 4. Itadakimasu!
Selected by Popular Vote
I feel like few things can bring people together like food can. As such, my design is based on one of the most iconic dishes in Japanese cuisine, ramen, which has been embraced by American diners with a similar passion you find in Japan. Both countries are represented in the design by the small sheets of nori in the shapse of flags, joining together over a warm bowl of ramen.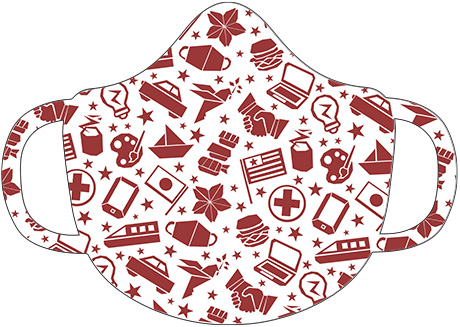 12. What We Share
Selected by: The Japan Foundation, Los Angeles
The design concept was created with the thought of the United States' and Japan's history of interactions and what has been born from it. The design represents shared history of contact, innovations in medicine and technology, material culture, and the hope for the continuation of peace between our two nations.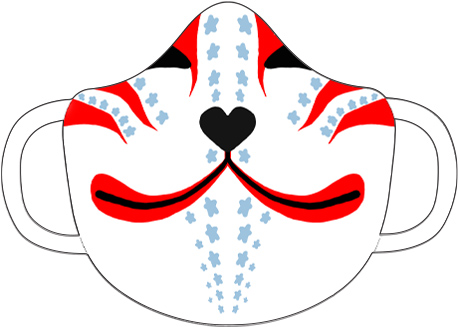 46. FOX – ホシMask
Selected by Popular Vote
The design uses the colors of both the Japanese and American flags. Red, white, and blue. Seven red marks resemble a Japanese kitsune, like Seven red stripes on the American flag. There are 50 blue stars representing 50 States. At the center is a heart shaped nose representing a union. Kitsune is showing more of the Japanese culture aspect, so FOX is in English. Stars are an American flag aspect, ホシ is the Japanese word for star. Thus mixing together languages in the name.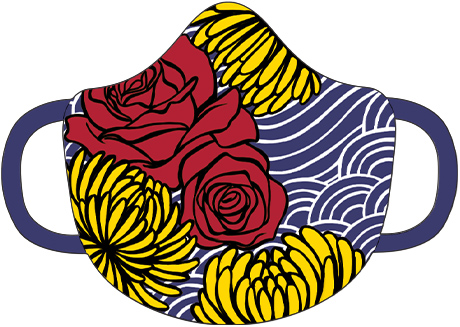 91. Across the Ocean
Selected by: Julie Pastor
Cooper Hewitt, Smithsonian Design Museum
Used the National flowers of both Japan and the US with a mix of a traditional seigaiha pattern and softer line to more align with the lines of the US flag in the background.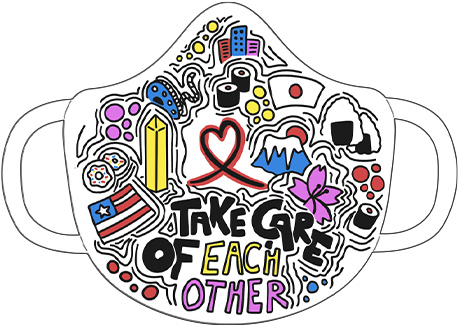 121. Take Care of Each Other
Selected by: Consulate General of Japan in New York
A mask is worn to protect not only yourself, but others as well. I hope my mask design will inspire others to come together and to overcome the pandemic.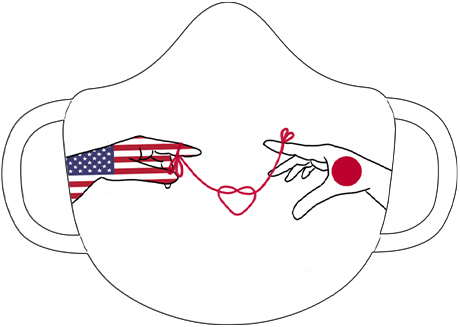 122. The Red Thread that Connects Us
Selected by: Rama Chorpash
Parsons School of Design
Based on Japan red thread legend, the red thread is a symbol of human connections and relationships. With what we are going through now in this pandemic, we should know we are not isolated from one another, but are still connected as one. With the unity of both countries, Japan and the United States we can progress through this pandemic together, with the red thread that connects us.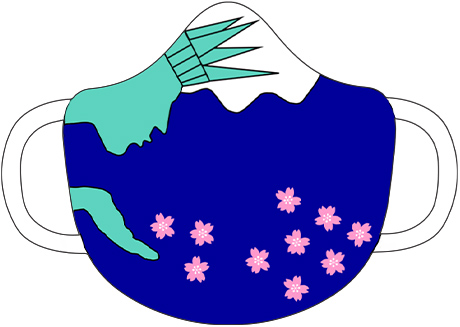 123. Gentle Breeze
Selected by: Jean Shein
UNIQLO, USA
Japanese cherry trees in Washington D.C. are a symbol of the long-lasting friendship between the US and Japan. Cherry blossoms flowing on a gentle breeze from the Statue of Liberty behind Mount Fuji abstract our calm yet firm aspiration to continue fostering our friendship between the two countries.
124. Friendship through music
Selected by: The Japan Foundation CGP, New York
Everyone speaks a language. People in Japan speak Japanese and Americans speak English, but there is another language that connects people in Japan and America: Music. Regardless of the language musicians speak they can all communicate through music. The saxophone is important to me because my father is a saxophonist and he plays concerts in Japan with our Japanese friend who plays shakuhachi. Music brings people together from Japan, America, and all over the world.
Judges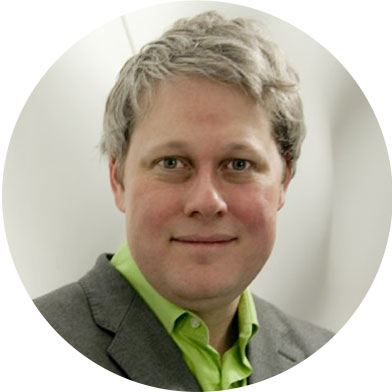 Rama Chorpash
Associate Professor of Product Design,
Parsons School of Design, School of Constructed Environments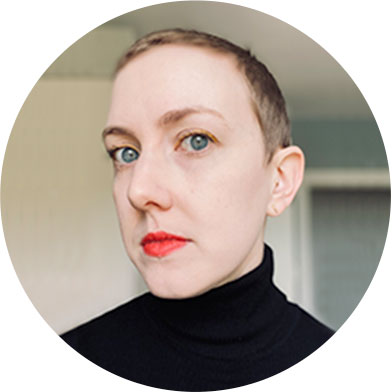 Julie Pastor
Curatorial Assistant, Cooper Hewitt, Smithsonian Design Museum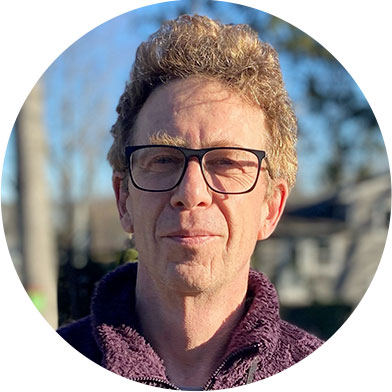 Jean-Emmanuel Shein
Global Director, Sustainability UNIQLO USA LLC. / Fast Retailing Co. Ltd. Japan in New York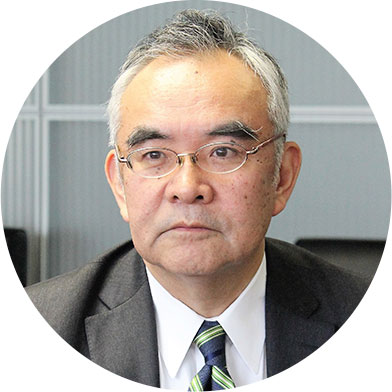 Ambassador
Kanji Yamanouchi
Consul General of Japan in New York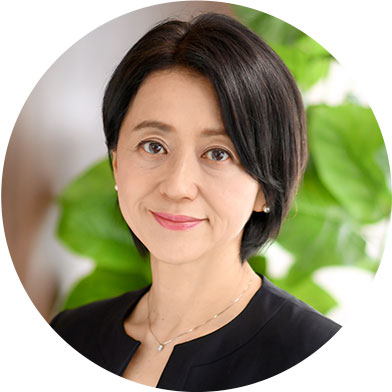 Yasuko Uchida
Director, The Japan Foundation, Los Angeles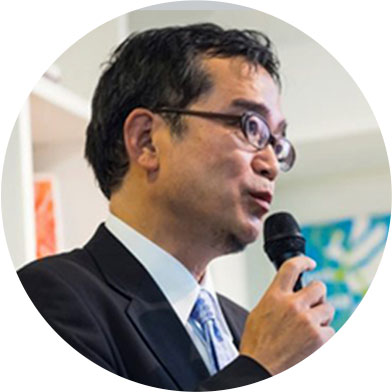 Masaya Shimoyama
Director General, The Japan Foundation, New York
Mask Up 2020 Winners Announcement and History of Masks in Japan