Film
09/09/2022 - 09/25/2022
Washington, DC & Baltimore, MD
The Nightsong of Orpheus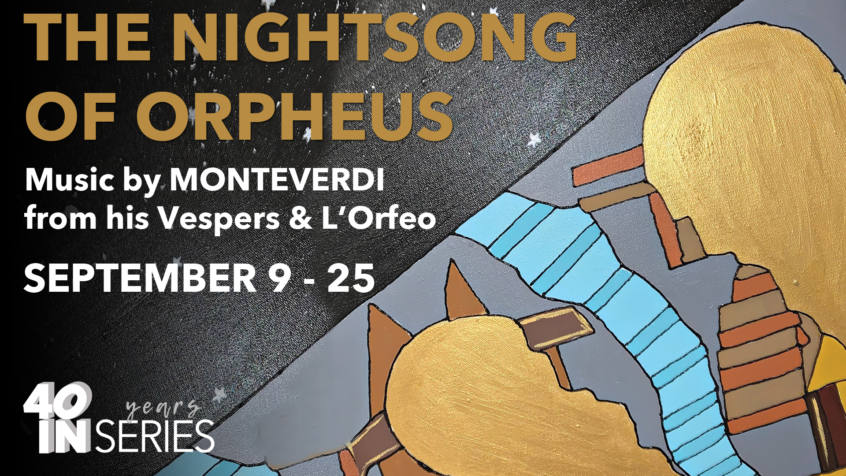 Time & Location
September 9-11, Source Theatre (Washington, DC)
September 16-18, Dupont Underground (Washington, DC)
September 23-25, Baltimore Theatre Project (Baltimore, MD)
About
IN Series opens its 2022-2023 40th Anniversary Season with THE NIGHTSONG OF ORPHEUS – combining opera and Japanese Noh in an immersive DC and Baltimore production.

With THE NIGHTSONG OF ORPHEUS, IN Series brings together two ancient artistic forms, the first opera still performed and the oldest theatrical tradition still practiced, in an international collaboration. For this production IN Series partners with Japanese Noh Theatre company Theatre Nohgaku, and their master artist Akira Matsui, a living national treasure of Japan. The performance weaves together music from 17th century Italian composer Claudio Monteverdi's two great masterpieces, the sacred VESPERS and opera L'ORFEO, along with fragments of traditional Noh music and dance.
With an opening weekend performances at the Source Theater, and closing weekend of performances at the Baltimore Theatre Project as part of IN Series' first full Baltimore Season, the production, which centers on a musician's journey to the underworld to use music to overcome death, will also be staged in 3 immersive performance at the Dupont Underground, the first time opera has ever been presented in this space.
The performance also includes a set of specialty masks commissioned by master Japanese Noh mask maker Kitazawa Hideta.
THE NIGHTSONG OF ORPHEUS will be sung in a new English and Japanese translation, and feature a cast of leading vocal artists, the INnovatio baroque ensemble composed of musicians from around the world, as well as actors and musicians from Theatre Nohgaku.
Performance Schedule is as follows:
Source Theatre
1835 14th St NW, Washington, DC 20009
Friday, September 9 at 7:30pm (Opening Reception to follow)
Saturday, September 10 at 2:30pm & 7:30pm
Sunday, September 11 at 2:30pm (Post-show Artist Talk Back)
Dupont Underground
19 Dupont Cir NW, Washington, DC 20036
Friday, September 16 at 7:30pm
Saturday, September 17 at 2:30pm & 7:30pm
Sunday, September 18 at 2:30pm
Baltimore Theatre Project
45 W Preston St, Baltimore, MD 21201
Friday, September 23 at 7:30pm
Saturday, September 24 at 7:30pm
Sunday, September 25 at 2:30pm
For more information visit and tickets visit IN Series's website.
This event is supported through the JFNY Grant for Arts & Culture.