Workshop
05/23/2022 - 05/26/2022
Minneapolis, MN
Public Lecture and Workshop Series with Kiyomoto Ogasawara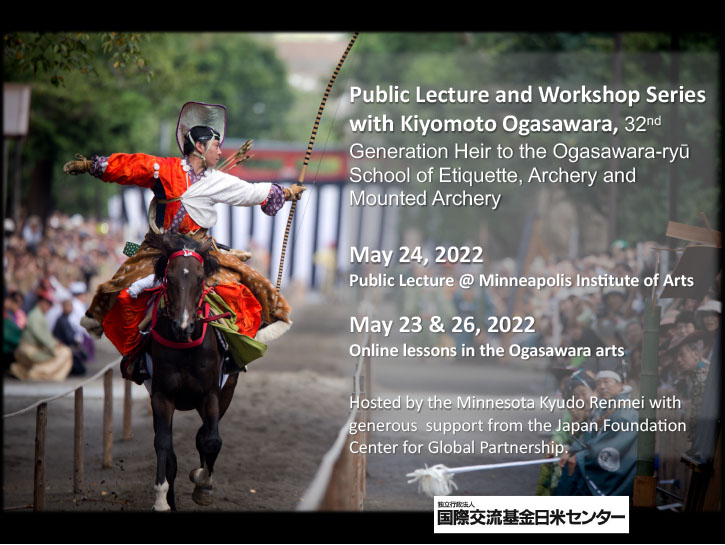 Time & Location
May 23- 26
Minneapolis Institute of Art (Minneapolis, MN)
&
Online
About
Minnesota Kyudo Renmei is hosting three public events with Kiyomoto Ogasawara is the 32nd Generation Heir to the Ogasawara-ryū School of Etiquette, Archery and Mounted Archery. The Ogasawara family served as instructors to generations of Shoguns in these disciplines. Ogasawara-ryū etiquette was taught to warriors across Japan as appropriate behavior for samurai, and became the foundation for martial arts etiquette. Join the lecture and workshop series to learn more about these traditions and how they remain relevant today.
The Art of Ogasawara-ryū Knot Tying
May 23, 2022 8pm EDT
Online
The reihō passed down in the Ogasawara family originated from the samurai etiquette of the Kamakura period. In the late Heian period, Nagakiyo created rituals for the samurai at the request of Minamoto no Yoritomo, and in the Muromachi period (1336-1573), these became formalized as the reihō for samurai manners. The Ogasawara-ryū reihō is to find beauty in being considerate of the other person, responding flexibly, and eliminating the irrelevant. This lesson will focus on the art of tying beautiful knots, and folding paper for numerous occasions.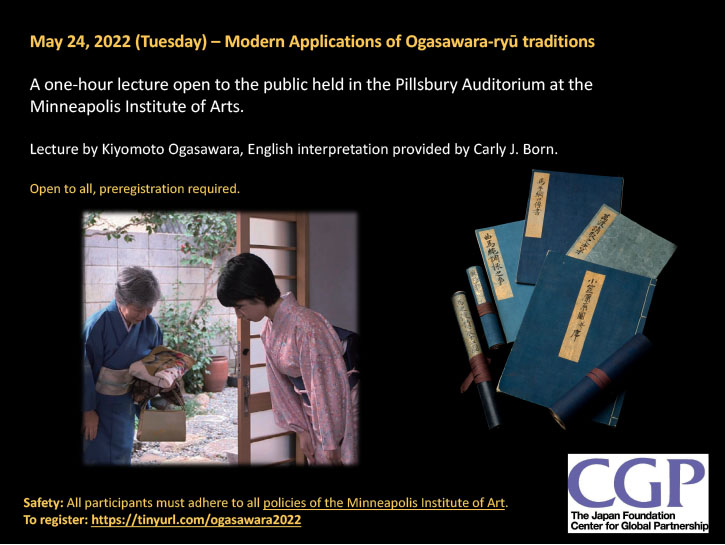 Modern Applications of Ogasawara-ryu traditions
May 24, 2022 7pm CDT
Minneapolis Institute of Art, Minneapolis, MN
Kiyomoto Ogasawara
, the 32nd generation head of the Ogasawara School of Etiquette, Archery and Horsemanship, will discuss an overview of his family's 850-year history as teachers to the samurai classes. He will discuss the values of the Ogasawara school and bring to light how these practices of etiquette can still be practical and useful today.
Introduction to Ogasawara-ryū Reihō
May 26, 2022 8pm EDT
Online
Ogasawara-ryū etiquette was taught to generations of Shoguns. It has become the foundation for all Japanese martial arts etiquette but it is also known as the best etiquette style in Japan. Learn the Ogasawara way of efficient body movements for walking, standing and bowing; fundamental for those practicing any martial art as well as for every day life.
Register for all three events
here
.
This event is supported through the
Center for Global Partnership Grassroots Education Grant.