Talk
11/01/2022
Online
Networking Japan: Localizing Japan, Video Game Translation and Localization at Capcom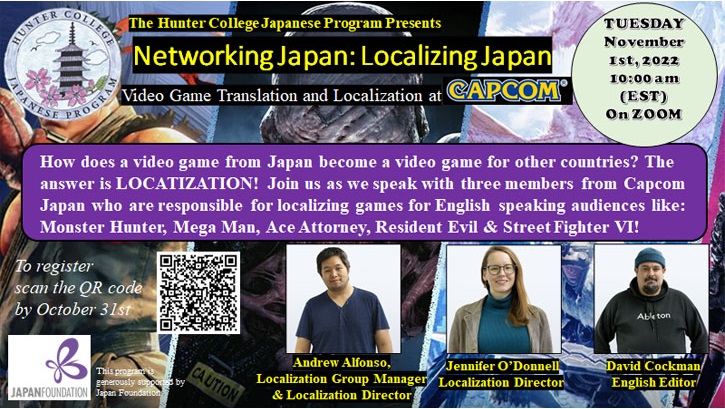 Time and Location
November 1, 10am EST
Online
About
How does a video game from Japan become a video game for other countries? The answer is LOCALIZATION! Join Hunter College for a conversation with three members from Capcom Japan who are responsible for localization games for English speaking audiences like: Monster Hunter, Mega Man, Ace Attorney, Resident Evil & Street Fighter VI!
Part of Hunter College Japanese Program's Networking Japan: Career Development Series, this event will feature Andrew Alfonso, Localization Group Manager & Localization Director; Jennifer O'Donnell, Localization Director; and David Cockman, English Editor.
This event is supported through the Japan Foundation New York's Salary Assistance Grant for U.S.-Japan Community Grassroots Exchange Program.