Workshop
10/29/2022
Online
Large-scale Kamishibai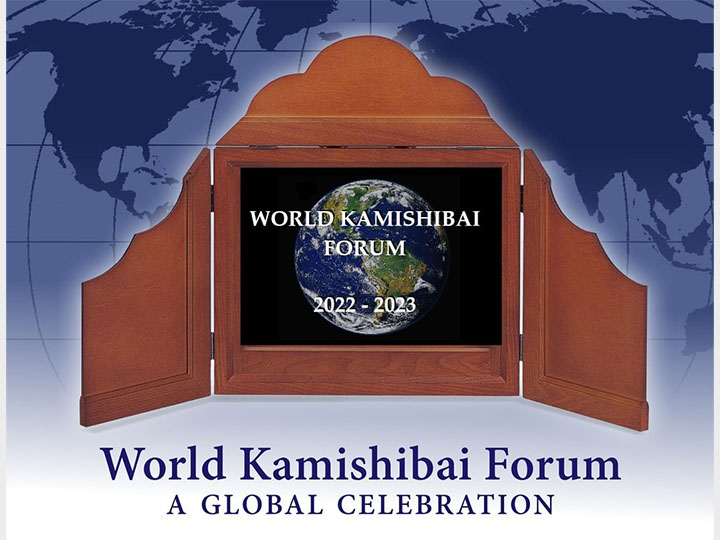 Time & Location
October 29, 7:30pm ET
Online
About
In the upcoming World Kamishibai Forum webinar, MOROHASHI Seiko of Senzo-in Temple, a buddhist priest, artist and kamishibai performer, will present his extra large format kamishibai drawings and performance style.
The World Kamishibai Forum is a free series of ten Zoom meetings that focus on different aspects of kamishibai. Live attendees will meet and interact with the presenters who are experienced kamishibai creators/presenters from around the globe and have deep experience in their work. The workshops will be recorded and made available to view later.
Sign up for the webinar here.
Presenter
MOROHASHI Seiko is a Buddhist priest, award-winning artist and recipient of many prizes for his Buddhist-themed picture books and kamishibai. In 1993, he won the prestigious Takahashi Gozan Award for his kamishibai story The Bears of Mt. Nametoko (Miyazawa Kenji). Some of Mr. Morohashi's kamishibai are published in large format but he has also created extra-large, dynamically hand-drawn versions – approximately the size of tatami mats (130 cm x 90 cm) – using a type of acrylic paint on cardboard. The performances of these large-scale kamishibai involve a narrator, assistants who change the cards, and live musicians. The Mochimochi Tree (Saito Ryusuke) and The Restaurant of Many Orders (Miyazawa Kenji), both classics of Japanese children's literature, will be performed in English (translations by World Kamishibai Forum). This will be a rare opportunity for an international audience to experience Mr. Morohashi's kamishibai and should not to be missed.
For more information visit Write Out Loud website.
This event is supported through the Global Partnerships Education Grant.