Cultural Event
10/09/2022 - 10/29/2022
New York NY
KIMONO: A Tradition of Sustainable Fashion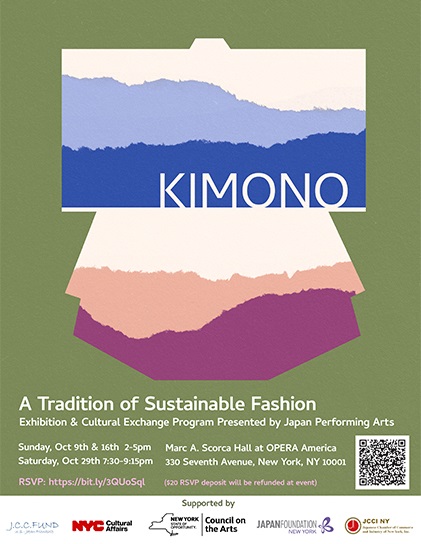 Time & Location
October 9, 2-5pm
October 16, 2-5pm
October 29, 7:30-9:15pm
OPERA America (New York NY)
About
Japan Performing Arts will present Japanese kimono exhibition with lectures and demonstrations.
The shape of Japanese kimono costume has not changed over 1200 years. Kimono's total product lifecycle management tradition was a well established system including its shape from the ancient times. Kimono is an outfit with so much meticulous deliberation in every detail, so as not to waste any fabric. It is designed to last for a long time, and it can be recycled.
The program will introduce the wisdom within Japanese kimono culture including some of the rare traditional craftsmanship techniques. Additionally, the relationship between kimono and Japanese traditional dance will be shown and explained with actual live performance sessions.
The project of Kimono as a sustainable fashion will be a long-term project of JPA.
Visit the Japan Performing Arts, Inc. to learn more.
This event is supported through the JFNY Grant for Arts and Culture.