Talk
07/10/2023
Online
Japan's Security Policy Transformation: Why Now?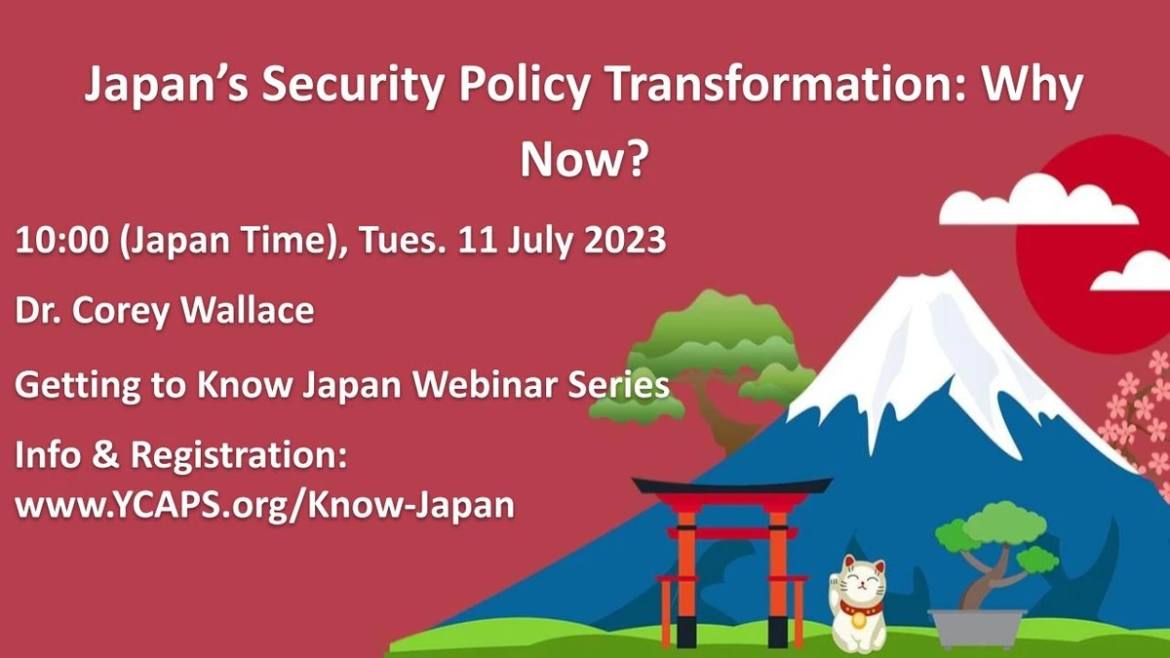 Time and Location
July 10, 9pm EDT
Online
About
In this talk, Dr.Corey Wallace introduces the post-war evolution of Japan's security policy and the significance of post-2020 policy adaptations. The presentation covers historical debates about continuity and change and the role of the Koizumi and Abe administrations in driving forward Japan's security agenda in the new millennium. It also provide reflections on why we are seeing even more transformative security policy steps being taken post-2020 even after the end of the Abe administration.
The event will be recorded and published in YCAPS' web archive. Questions are encouraged during the live event.
Speakers
Dr. Corey Wallace is Associate Professor at Kanagawa University in the Faculty of Foreign Languages (Minatomirai Campus, Yokohama). He was previously Einstein Foundation Visiting Fellowship Postdoctoral Researcher at the Graduate School of East Asian Studies, Freie Universität Berlin (2015-2019). He completed his Master of Arts in Political Science from the University of Canterbury in 2004 before spending three years on the Japan Exchange Teaching (JET) Program in Fukushima Prefecture. On his return to New Zealand, Corey worked at the Ministry of Research, Science and Technology as a policy advisor. He received his PhD in International Relations and Politics from the University of Auckland in 2015. Corey's academic publications on regional geopolitics and Japan's security policy have featured in International Relations of the Asia-Pacific, the Pacific Review, and Asian Perspective, and Chatham House's International Affairs.
Visit Yokosuka Council on Asia-Pacific Studies (YCAPS) website
for more information.
This event is supported through the Japan Foundation New York's Salary Assistance Grant for U.S.-Japan Community Grassroots Exchange Program.