Workshop
08/14/2022
Online
Japanese Crafts Workshop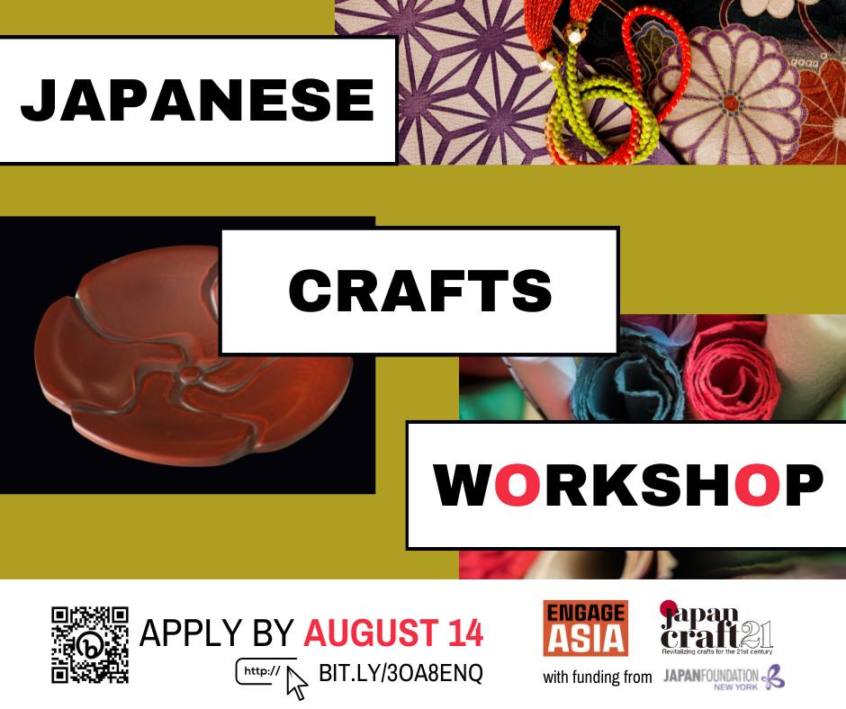 Time & Location
Application Deadline- August 14, 11:59pm EDT
Online
About
This workshop targets K-12 educators based in the U.S. who are interested in exploring the rich world of Japanese crafts. This program is a partnership between EngageAsia and JapanCraft21, an organization in Japan which aims to revitalize traditional Japanese master crafts (dentou kougei) by identifying the issues artisans face and implementing solutions for the 21st century.
The workshop was designed with the understanding that some educators may face challenges in incorporating Japanese crafts into their classroom. However, the program hopes to help teachers gain a better understanding of Japan and stimulate new ideas and approaches. This workshop will encompass a total of eight Zoom sessions between August 2022 and March 2023. Topics covered in the workshop sessions include: Why Japan Crafts? Japanese Crafts History-Geography and Cultural Connections, Introduction to Craft Styles, Crafts & Sustainability, Social and Economic Challenges of Crafts, Women and Crafts, Exploring Crafts Through Case Studies, Using Crafts in the Classroom.
Applicants must be K-12 educators based in the U.S.
For program details, please see the guidebook here. Apply here.

More information can be found on the EngageAsia website.
This event is supported through the CGP Salary Assistance Grant for U.S.-Japan Community Grassroots Exchange Program.