Workshop
05/12/2022 - 06/10/2022
Online
Japan-U.S. Science Communication & Policy Fellowship Network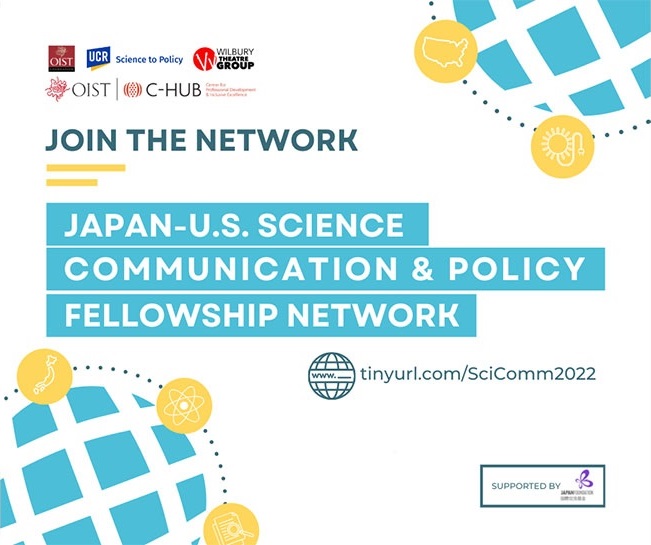 Deadline- June 10
About
The Okinawa Institute of Science and Technology (OIST) Foundation, the Okinawa Institute of Science and Technology Graduate University's Center for Professional Development & Inclusive Excellence (C-HUB), the Wilbury Theatre Group, and University of California, Riverside Science to Policy — will partner for the inaugural
Japan-U.S. Science Communication & Policy Fellowship Network Program
funded by The Japan Foundation. The program, which looks to link scientists in the United States and Japan, focuses on helping scientists better communicate their studies and discoveries.
Applications, due June 10, are now open.
For more information, please see this
program overview
, the
program flyer
, and the
official press release
.
This program promotes meaningful cooperation between the two countries on global challenges by bridging a critical gap between science and policy. The Program brings together early-career scientists from Japan and the U.S. to engage in bilateral training and exchange for effective communication towards strategic collaboration with policymakers. Selected Fellows will participate in a year-long cohort experience and receive training to communicate science-informed policy to a wide audience.
This program is supported by a grant from the Japan Foundation Global Partnerships Department.