Lecture
01/27/2022
Online
How the Japanese See the Military: Depictions in Pop Culture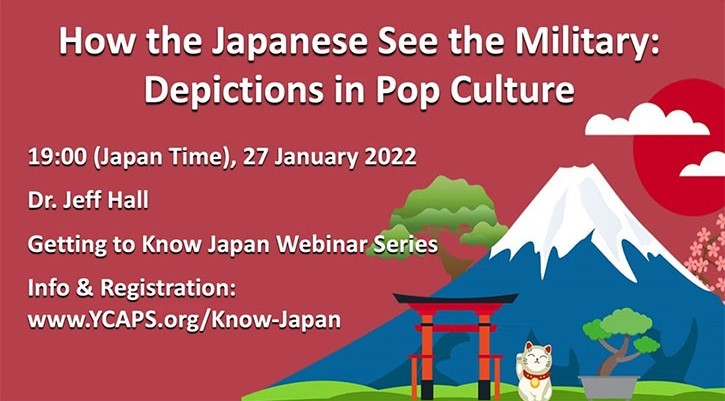 Time & Location
January 27, 5am EST (7pm JST)
Online
About
The Yokosuka Council on Asia-Pacific Studies (YCAPS) presents a weekly webinar series on Japanese culture and society,
Getting to Know Japan Series
. Dr. Jeff Hall (Kanda University of International Studies) will join YCAPS to lead a session on how the Japanese and US militaries are depicted in Japanese pop culture, and how those depictions influence the public's understanding and opinion of both forces.
Click here to register. Visit the YCAPS website to learn more.
The webinar series is supported through the
CGP Salary Assistant Grant for U.S.-Japan Community Grassroots Exchange Program
.
Speaker
Dr.Jeffrey J. Hall
is a lecturer at Kanda University of International Studies. His research topics include Japan's national activism, historical disputes, and pop culture. Dr. Hall recently published a new book
"Japan's Nationalist Right in the Internet Age: Online Media and Grassroots Conservatism"
(Routledge, 2021).