Exhibition
02/12/2022 - 04/17/2022
Portland, OR
Fashion and Fantasy: The Art of Netsuke Carvings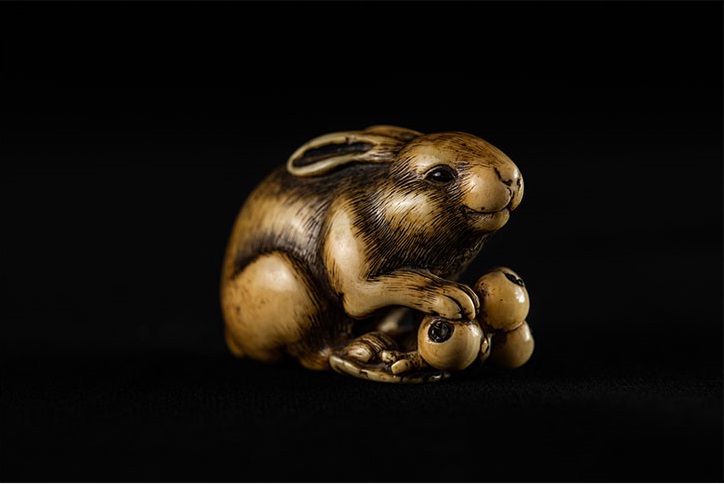 Japanese ivory netsuke of a rabbit with a bunch of loquats. Signed in rectangular reserve "Okatomo". 18th century. Photo by Heather Hawksford
Time & Location
February 12, 2022- April 17, 2022
Portland Japanese Garden (Portland, OR)
About
Discover the beauty of Japanese Netsuke Carvings. Netsuke is a small accessories that are made of wood, ivory, or porcelain to secure small pouches to men's pocket less kimonos back in the Edo period (1603–1868). The first netsuke were made of small, dried gourds, slender pieces of wood or bamboo sticks. These rudimentary toggles developed into exquisite artistic carvings with the help of a subversive and fashionable mercantile class. During the Edo period, numerous edicts prevented the lower classes—farmers, craftsmen and merchants—from displaying opulence, while the upper warrior class enjoyed access to more refined and lavish clothes, houses and jewelry. Please visit Portland Japanese Garden to see and learn the small yet very delicate art of Netsuke Carvings.
Visit the Portland Japanese Garden Website to learn more.
This event is supported through
CGP 2021 Relief Grant for Japan America Societies and Japanese Gardens.