Exhibition
09/08/2022 - 11/03/2022
Washington, DC
Crafting Global Friendships: Celebrating 20 Years of the World Cosplay Summit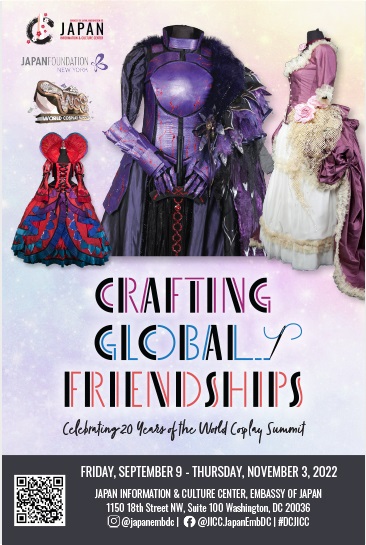 Time & Location
September 8, 6:30pm EDT (Curator talk)
September 9 – November 3 (Exhibition)
Japan Information & Culture Center Embassy of Japan, Washington DC
About
Explore the amazing world of cosplay and Japanese culture with a unique collection of costumes handcrafted by professional cosplayers and World Cosplay Summit contestants!
Exhibition
The Japan Information and Culture Center (JICC), Embassy of Japan presents Crafting Global Friendships: Celebrating 20 Years of the World Cosplay Summit. This exhibit showcases examples of the connections that are built through costuming and more specifically, cosplay. The exquisitely crafted costumes on display tell the story of a journey that begins with a love of costuming, performing, and Japanese popular culture, and will give participants an experience unlike anything else of its kind.
For more information click
here
.
Talk
Prior to the opening of the exhibit, Curator talk event by Diana Tolin will be held at JICC on September 8 at 6:30 pm.
This curator talk includes a panel discussion and Q&A that will further expand on the JICC's current exhibition with firsthand accounts of the world's largest international cosplay competition, its history, and current developments. The panelists' discussion will focus on the rise of cosplay in social media and how the world of cosplay is more interconnected than ever before. They will closely examine how the medium has become a gateway to creativity, self-expression, and human connections without borders.
Diana will be accompanied by Guest Panelists and World Cosplay Summit Alumni AlpacaAsh (USA 2015), JHart Design (USA 2019), and ChibiTifa (USA 2021).
For more information click here.
This exhibition is held in partnership with the World Cosplay Summit, Inc., and The Japan Foundation, New York.