Exhibition
07/29/2022 - 07/31/2022
New York, NY
COLORS FOR PEACE by Sebastian Masuda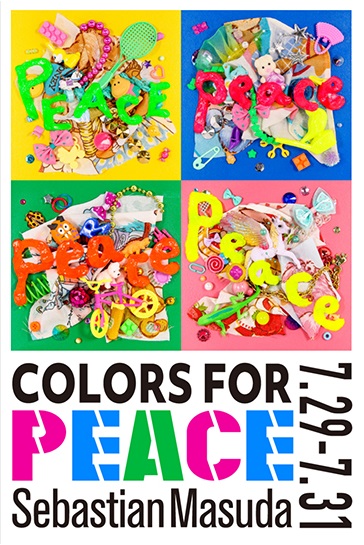 Photo credit: Sebastian Masuda Studio
Time & Location
July 29– 31, 2022
Mizuma & Kips (New York, NY)
About
Please join the Sebastian Masuda's Charity Art Exhibition COLORS FOR PEACE. Sebastian Masuda is a worldwide well-known Japanese artist. He has been promoting the Kawaii culture in Harajuku since the 1990s. This Japanese Kawaii Culture has now spread to younger generations on a global scale as pop culture representing J-Culture. Mr. Masuda has held events in LA, NY, London, Paris, Mexico, Canada, Israel, and other places serving as a gathering place for the community of those who love and respect Kawaii Culture. In 2011 he directed the Kyary Pamyu Pamyu's music video PONPONPON and in 2015 he produced the KAWAII MONSTER CAFÉ.
COLOR FOR PEACE exhibition's theme is to think of World Peace. They may be simple words, but Mr. Masuda said how important it is to be able to sleep in your own bed every night. When he moved to New York City earlier this year, he was looking for the place to settle down. He stayed at hotels and office spaces for several months. Due to the stress of not being able to settle down and sleep in the same bed every night, he became ill. He realized how important it is to simply sleep in your own bed every night. This experience made him think about world peace and all those people in Ukraine that might not be able to sleep in their own bed every night.
"The theme of the event is seemingly simple: think peace. But, please close your eyes and imagine it. And then, please realize how comforting it is to peacefully sleep in your own bed at home tonight." ―Sebastian Masuda
The donations and as well as the profits from the works sold will be donated to The Ukrainian National Women's League of America and human rights organizations that support Ukraine.
More information visit Sebastian Masuda website.
Exhibition schedule:
July 29(Fri) – 31(Sun), 2022
Time:
July 29th Fri. 12pm-6pm
July 30th Sat. 12pm-6pm
July 31st Sun. 12pm-5pm

Opening Reception:
July 29th Fri. 6pm-8pm
*RSVP required at Eventbrite.
This event is supported through the JFNY Education Grant for Grassroots Exchange and Education.