Cultural Event
07/06/2022
Philadelphia, PA
Collaboration of Consulate General of Japan in New York and SAKURA COLLECTION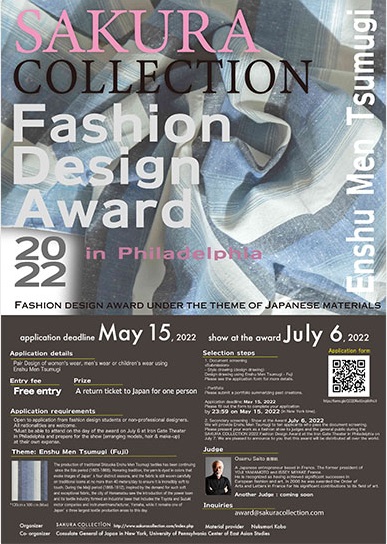 Time & Location
July 6, 2022
Inron Gate Theater (Philadelphia, PA)
About
This is a notice from the Consulate General of Japan in NY and
SAKURA COLLECTION
: Please join the SAKURA COLLECTION 2022 Fashion Design Award in Philadelphia. The
SAKURA COLLECTION
was launched back in 2012 in Tokyo. The
SAKURA COLLECTION
is a fashion project which aims to connect Japan's traditional industry with international young creators to generate new ideas for the future. This year's theme is "Enshu Men Tsumugi (Enshu cotton pongee)", a traditional fabric from Shizuoka Prefecture in Japan.
This is a free entry contest which is open to application from fashion design students or non-professional designers.
Application deadline is May 15th 2022.
*Applicants must be able to attend on the day of the award on July 6 at Iron Gate Theater in Philadelphia and prepare for the show (arranging models, hair & make-up) at their own expense.
Prize is a return ticket to Japan for one person!
For more details visit:
here.