Talk
03/14/2022
Online
Career Development Series: Ministry of Education, Culture, Sports, Science and Technology (MEXT) SCHOLARSHIP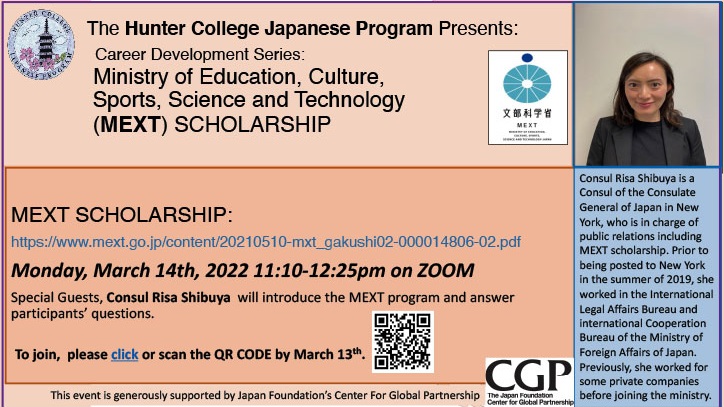 Time & Location
March 14th, 11:10-12:25pm EDT
Online
About
Presented by The Hunter College Japanese Program, Special Guest Consul Risa Shibuya will introduce the MEXT program and answer participants' questions. Consul Risa Shibuya is a Consul of the Consulate General of Japan in New York, who is in charge of public relations including MEXT scholarship. Prior to being posted to New York in the summer of 2019, she worked in the International Legal Affairs Bureau and international Cooperation Bureau of the Ministry of Foreign Affairs of Japan. Previously, she worked for some private companies.
This event is supported through the Japan Foundation Center for Global Partnership
Salary Assistance Grant.