Talk
10/12/2022
New York, NY
Book Reading: Tokyo Ueno Station by Yu Miri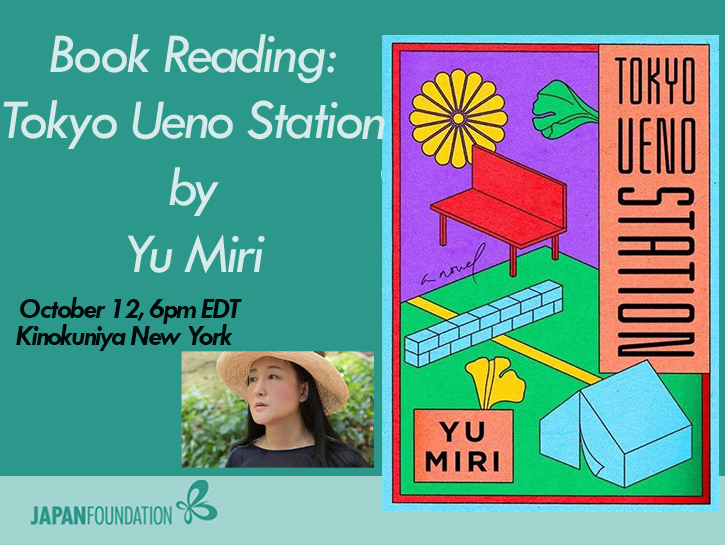 Time & Location
October 12, 6pm EDT
Kinokuniya New York (New York, NY)
About
In Partnership with Books Kinokuniya New York, The Japan Foundation New York presents a book reading of Tokyo Ueno Station by Yu Miri, an acclaimed writer of plays and fictions. For the novel, she won the 2020 National Book Award for Translated Literature.
The reading will be followed by a book signing exclusively for those who purchase Yu Miri's books.
*Please be aware that the reading will be in Japanese.
This admission free event will be on a first-come-first-served basis, so be sure to show up early!
Speakers
Yu Miri is a writer of plays, prose fiction, and essays, with over twenty books to her name. She received Japan's most prestigious literary award, the Akutagawa Prize. After the 2011 earthquake and tsunami in Fukushima, she began to visit the affected area, hosting a radio show to listen to survivors' stories. She relocated to Fukushima in 2015 and has opened a bookstore and theater space to continue her cultural work in collaboration with those affected by the disaster. Her novel Tokyo Ueno Station won the 2020 National Book Award for Translated Literature.
Synopsis of Tokyo Ueno Station:
Kazu is dead. Born in Fukushima in 1933, the same year as the Japanese Emperor, his life is tied by a series of coincidences to the Imperial family and has been shaped at every turn by modern Japanese history. But his life story is also marked by bad luck, and now, in death, he is unable to rest, doomed to haunt the park near Ueno Station in Tokyo.
Kazu's life in the city began and ended in that park; he arrived there to work as a laborer in the preparations for the 1964 Tokyo Olympics and ended his days living in the vast homeless village in the park, traumatized by the destruction of the 2011 tsunami and shattered by the announcement of the 2020 Olympics.
Through Kazu's eyes, we see daily life in Tokyo buzz around him and learn the intimate details of his personal story, how loss and society's inequalities and constrictions spiraled towards this ghostly fate, with moments of beauty and grace just out of reach. A powerful masterwork from one of Japan's most brilliant outsider writers, Tokyo Ueno Station is a book for our times and a look into a marginalized existence in a shiny global megapolis.
The Japan Foundation New York has organized this event in partnership with Kinokuniya New York.
Featured
Literature Events