Symposium
11/08/2022
Tokyo & Online
AHWIN Forum: Harnessing the Power of Technology for Healthy Aging in Asia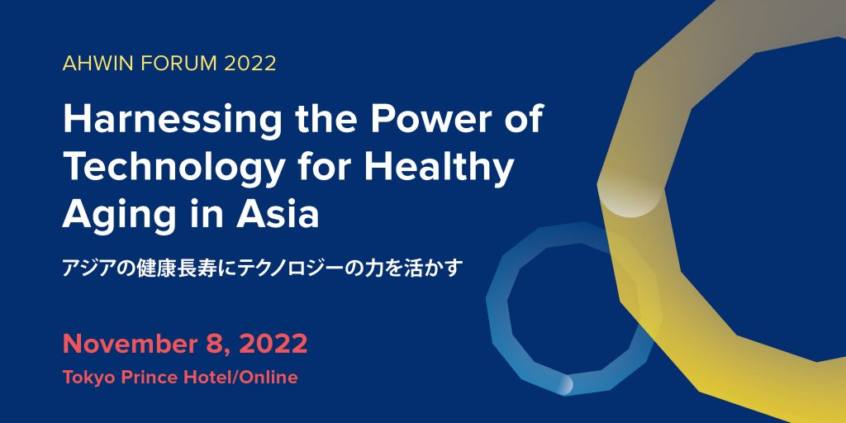 Time and Location
November 8, 13:30-18:00 (JST)
Tokyo Prince Hotel (Tokyo, Japan)
&
Online
About
Asia is home to the largest population of older persons and to some of the most rapidly aging countries globally. Facing the changing demographic landscape of the region, countries are starting to recognize the importance of preparing for an aging society and the continuing need to promote the wellbeing and social inclusion of older persons. The Economic Research Institute for ASEAN and East Asia (ERIA) and the Japan Center for International Exchange (JCIE) will convene the 2022 AHWIN Forum in Japan, which will chair the 2023 G7 meetings.
The AHWIN Forum is a special ERIA-JCIE initiative, convened under the auspices of the Government of Japan's Asia Health and Wellbeing Initiative (AHWIN) to bring together policymakers, researchers, private sector enterprises, and practical program implementers across the region for a dialogue on the future direction of global and regional collaboration to harness the benefits of data, technology, and innovation for the promotion of healthy aging in Asia and throughout the world.
The focus this year will be on regional efforts to translate data and innovations into better policies, products, and programs for healthy aging and care for older persons, and to discuss best practices in designing age-friendly cities that enable people to stay active and connected and foster solidarity among generations.
The event is both in-person and online; please see Asia Health and Wellbeing Initiative webpage for details and registration.