Cultural Event
08/27/2022
Brooklyn, NY
2022 Japanese Summer Family Festival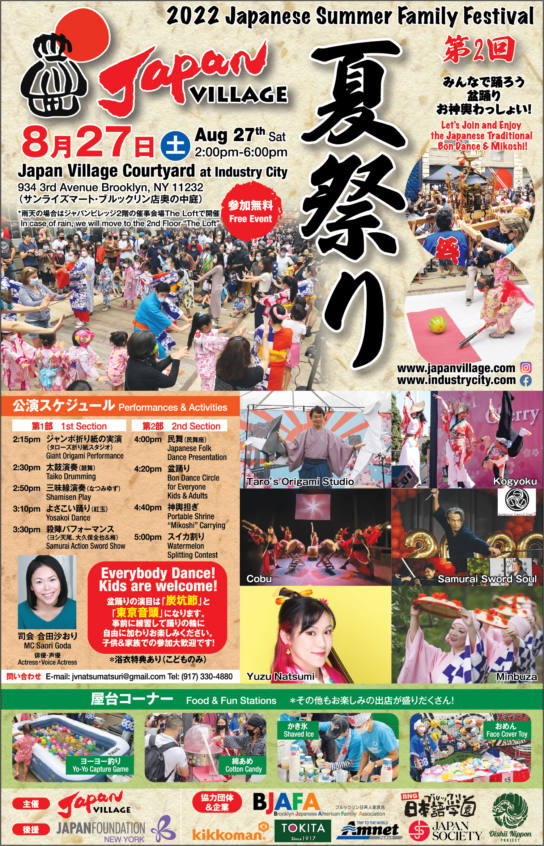 New York Seikatsu Press, Inc.
Time & Location
August 27
934 3rd Avenue (Brooklyn, NY)
About
Japan Village is celebrating the 2nd annual summer family festival! Natsumatsuri is a traditional Japanese summer festival. Japanese people have been celebrating and enjoying the summer for generations by Japanese traditional Bon Dance, Mikoshi Carrying (Portable Shrine Carrying), Japanese Taiko drums, etc. Japan Village Natsumatsuri offers not only the traditional shows to watch but all the fun traditional Natsumatsuri games and foods! Yo-Yo Fishing, Cotton candy, Ice shavings, Traditional masks (Omen), and much more!
Let's celebrate the summer at the Japan Village Natsumatsuri together!
*Natsumatsuri will be at the Japan Village Courtyard. In case of rain, Natsumatsuri will be moved to the 2nd floor of the Japan Village "The Loft"
More information visit Japan Village website.
This program is supported through the Japan Foundation Education Grant.