Japanese Studies
03/24/2022 - 03/27/2022
Honolulu, HI
2022 AAS Annual Conference in Honolulu, HI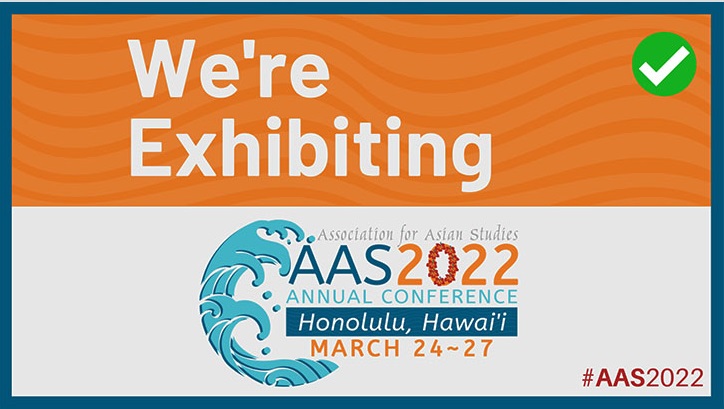 Hawaii Convention Center
March 24 – March 27
The Japan Foundation is a proud participant of the annual conference of Association for Asian Studies (AAS), the largest association open to all persons interested in Asia and the study of Asia. Every year, we host an information booth and reception in order to share our grant programs and promote networking among hundreds of Japanese Studies scholars.
For more information, please click
here
.
Japan Foundation's 50th Year Anniversary Plenary: Strengthening Human Capital Pipelines for Area Studies – A Global Perspective
Hawaii Convention Center, Kalakaua Ballroom A, Level 4
Friday, March 25, 5:30 – 7:00 pm
Commemorating its 50th year anniversary, The Japan Foundation will organize a global discussion on the current state and future prospects of area studies, including Japanese studies. The main focus of the discussion will be on strengthening human capital pipelines for the field. How can area studies stay relevant (and thus appealing to incoming students) amidst the growing popularity of trans-disciplinary and trans-regional approaches in scholarship? What sorts of educational innovations are necessary to train the next generations of area specialists (academics or alt-ac careers)? Speakers from around the world will share their insights on these important questions from the aspect of "Education" and "Research". The Plenary will be live-streamed for all AAS attendees, and the recording will be made available for later viewing.
Participants
:
Hideki Hara, Japan Foundation
William Bridges, University of Rochester
Simon Kraner, Sainsbury Institute for the Study of Japanese Arts and Cultures, University of East Anglia
Phan Hai Linh, University of Social Sciences and Humanities, VNU Hanoi
Margherita Long, University of California, Irvine
Alessio Patalano, King's College London
Leng Leng Thang, National University of Singapore
The Japan Foundation Reception
Hilton Hawaiian Village Waikiki Beach Resort, Tapa Ballroom II
Friday, March 25, 7:30 – 9:30 pm
The Japan Foundation's reception at AAS provides an opportunity to build a broader network among Japan specialists. We would be delighted if you join us in celebrating our 50th anniversary with conversation, food, and drinks.
The Japan Foundation Information Booth
Hawaii Convention Center Kamehameha Exhibit Hall I, booth #400
March 25- March 27
Please visit us in the Exhibit Hall, where we will be hosting an information booth for The Japan Foundation's grant programs.
Junior Scholars Networking Panel – Conspiracies and Coalitions in Japanese Environmental Humanities
Hawaii Convention Center, Devins Test Room, Room 301B
Friday, March 25, 9:30 – 11:00 am
This Japan Foundation-sponsored interdisciplinary panel is inspired by environmental-anthropologists Timothy K. Choy and Natasha Myers, and in particular their discussion of "conspiracies" as endeavors to "breathe together" to create livable worlds. Featuring scholars of Japanese anthropology, history, film, and literature, we discuss three case studies from Japan, and one from Japan and the Philippines, of conspiracies to heal bodies both human and non-human, no matter how cognitively or geographically distant.
We begin with Professor Wakana Suzuki's "Listening to the Voices of Microbes," on a Japanese entrepreneur who developed a "decomposing economy" in a small Japanese village by culturing microbes which enable his community to grow self-sustainable worlds with minimal waste. The panel continues with Professor Jon Pitt's "Sharing the Air to Spare the Air," on the paradoxical efforts of a Japanese conservationist to maintain the livable worlds of the Ogasawara archipelago (the Galapagos of East Asia). The panel then moves to Dr. Alyssa Paredes' "There Is No Circle of Poison," on transnational environmental activism in the context of aerial spraying of fields in the Philippines that provide bananas for distant Japanese consumers. Wrapping up the panel is Professor Daichi Sugai's "Emotions Floating in the Air," which focuses on artistic responses to the Wind Phone, a booth in Iwate Prefecture where individuals can share their personal grief, destabilizing the conventional and collective recovery narratives surrounding natural and unnatural disasters.
Together, these papers challenge conventional understandings of Japanese environmental activism and integrate more deeply Japan Studies and the environmental humanities.
Participants
:
Karen Thornber, Harvard University
Wakana Suzuki, Graduate University for Advanced Studies, Department of Evolutionary Biosystems, Japan
Jon Pitt, University of California, Irvine
Alyssa Paredes, University of Michigan
Daichi Sugai, Matsuyama University
Sakura Christmas, Bowdoin College
Satsuki Takahashi, Hosei University
AAS Opening Keynote Address: Longing and Belonging: Home as the Japanese-Brazilian Sentimental Heritage (Sponsored by Japan Foundation)
Hawaii Convention Center Kalakaua Ballroom A, Level 4
Thursday, March 24, 5:30 – 6:30 pm
"Home" is perceived as such only when you are far away. As a place and memory, it is foundational for the diasporic consciousness. It is both simple and multi-layered, frozen and mutable. Focusing on their longing for "home" as a way of interpreting the shifting sense of belonging to the country of their birth left behind, this keynote speech explores the complex and collective sentiment of Japanese immigrants in Brazil. Thanks to their short poetries of haiku and tanka, one can approach their inner lives from their own perspective as much as diagnose their "homesickness," outlining a genealogy of longing for home.
Participants:
Shuhei Hosokawa, Professor Emeritus at the International Research Center for Japanese Studies (Kyoto).
Featured
Projects Organized by JFNY