Performance
03/31/2023 - 04/02/2023
Houston, TX
ZEN-An: A Traveling Teahouse Experience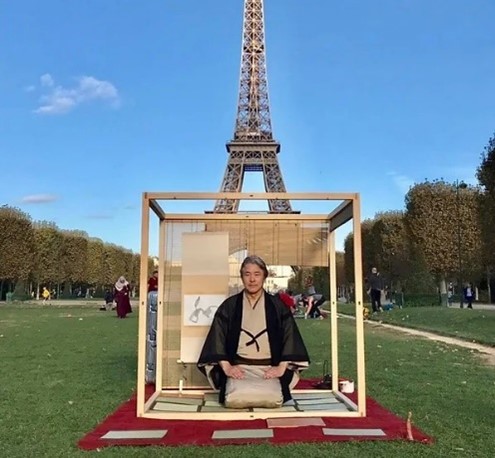 © Kuniji Tsubak
Time and Location
March 31- April 2
Various (Houston, TX)
About
In 2017, Kuniji Tsubaki designed a portable teahouse that condenses into the size of a suitcase. His ZEN-An was constructed using authentic Japanese techniques by master carpenters (sashsimonoshi), tatami craftsmen, blinds (sudare) makers, and washi paper mounters. His goal was to develop a tearoom that could be assembled within the time it takes to burn one stick of incense (approximately 15 minutes). 
Join Japan-America Society of Houston and the Museum of Fine Arts, Houston in presentations of tea ceremonies in this crafted environment for an introduction to the rituals of Japanese tea ceremonies as influenced by the long history of Buddhist religion.
Kuniji Tsubaki is a Japanese architect who specializes in tea rooms. He has found an ingenious way to take this spirit of hinraku around the world. His chashitsu fits in a suitcase and can be re-assembled in any location where he spreads a message of peace. Kuniji-san's portable tea room is constructed by his team of master artisans.
The program is co-presented by Japan-America Society of Houston and the Museum of Fine Arts, Houston in conjunction with None Whatsoever: Zen Painting from the Gitter-Yelen Collection on view from February 18 – May 13, 2023, at the Museum of Fine Arts, Houston.
Schedule
March 31st, 3pm at The Museum of Fine Arts Houston
April 1st, 11am at Japanese Garden in Hermann Park, Houston
April 1st, 1pm – 3pm at Multicultural Education and Counseling Through the Arts, Houston
April 2nd, 11am at Levy Park, Houston
April 2nd, 3pm at Burnett Bayland Park, Houston
For more information visit the Japan-America Society of Houston website.
This event is supported through the Japan Foundation New York's Education Grant.