Film
07/15/2022 - 09/20/2022
Silver Spring, MD
Toshiro Mifune Retrospective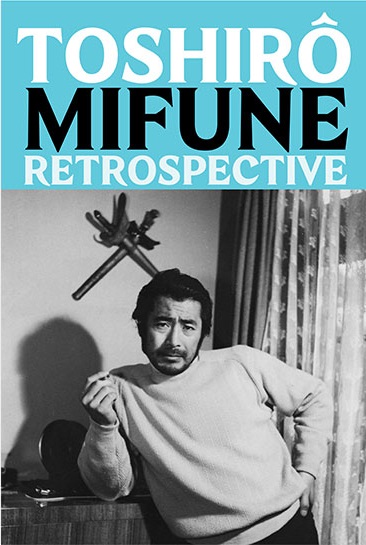 Time & Location
July 15- September 20
AFI Silver Theatre and Cultural Center (Silver Spring, MD)
About
A colossus of world cinema, Toshiro Mifune (1920–1997) thrilled audiences over a four-decade career spanning 150 films, with 16 directed by Akira Kurosawa. Though famous for his gruff, boisterous turns as a samurai, Mifune was a talented thespian equally adept at more restrained roles. Take it from Kurosawa himself: "I am a person rarely impressed by actors… [b]ut in the case of Mifune I was completely overwhelmed." In addition to his prolific collaboration with Kurosawa, Mifune starred in films directed by other Japanese heavyweights, including Masaki Kobayashi, Mikio Naruse and Kihachi Okamoto.
This retrospective presents a broad selection of Mifune's films drawn from across his entire career, with several rare 35mm prints imported from Japan. Highlights include RASHOMON, the Venice Golden Lion-winner that catapulted Japanese cinema onto the world stage; the genre-defining jidaigeki SEVEN SAMURAI; the actor's striking physical transformation into an elderly paranoiac in I LIVE IN FEAR; Mifune's sole collaboration with director Mikio Naruse, A WIFE'S HEART, showcasing the actor's tender side; the international all-star action-packed Western RED SUN (1971); and the thrilling swordfight spectaculars YOJIMBO, SANJURO, THE SWORD OF DOOM, SAMURAI REBELLION.
For more information visit AFI Silver Theatre and Cultural Center website.
This series is made possible with the support of The Japan Foundation. Special thanks to Bruce Goldstein and Film Forum.
Featured
Film Screening Event