Exhibition
07/26/2023 - 08/11/2023
Maryville, TN
The Superlative Artistry of Japan Exhibition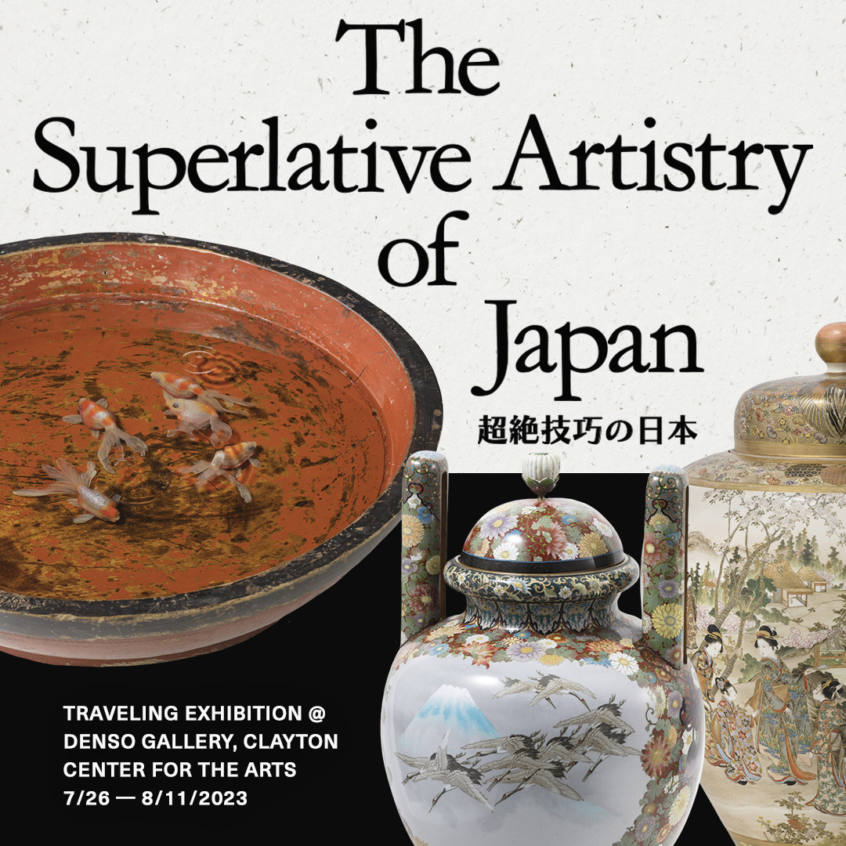 Time & Location
July 26- August 11
DENSO Gallery (Maryville, TN)
About
The Consulate-General of Japan in Nashville, Asian Culture Center of Tennessee, Clayton Center for the Arts, and the Japan Foundation will co-present The Superlative Artistry of Japan Exhibition from July 26th through August 11th at the DENSO Gallery, Clayton Center for the Arts, Maryville College. (502 E. Lamar Alexander Parkway, Maryville, TN 37804). The exhibition and opening reception are generously sponsored by DENSO, a leading mobility supplier that has called Maryville home for over thirty years.
What is "Superlative Artistry?"
Superlative Artistry refers to a creative skill or ability of the highest quality or degree. Through this exhibition, we intend to introduce Japan's creative culture, which honors craftsmanship and devotion towards the production processes. This traveling exhibition has compiled over 30 works that emphasize highly skilled techniques, ingenious expressions and concepts, and a high level of perfection.
We hope that through this exhibition, the visitors can experience Japan's creative culture and monozukuri (literally translated to "the making of things") spirit through this theme of Superlative Artistry. Starting with craft works from the Meiji era (1868-1912), this exhibition features items across a wide range of genres, including contemporary art, craft works, food samples, and shokugan (small toys sold with candy).
Please join the DENSO Gallery, Clayton Center for the Arts to celebrate the Japanese spirit of monozukuri through this encounter with Superlative Artistry.
This exhibition is free and open to the public. Walk-ins are welcome. The exhibition will be available for viewings from July 26 to August 11, 2023. Clayton Center for the Arts will be open to the public from 9 AM to 5 PM, Monday through Friday.
Information about the exhibit can be found at Clayton Center for the Arts website.
For more information please visit the Japan Foundation and 10th Anniversary Knox Asian Festival.