Literature
10/01/2023
Brookly, NY
Of Spirits and Monsters (Brooklyn Book Festival)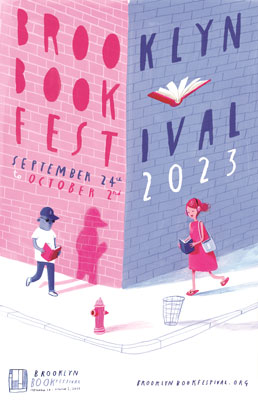 ©Oliver Jeffers
Time & Location
October 1, 3:30pm EDT
St. Ann & The Holy Trinity Church (New York, NY)
About
From the peripheries of death, in a Taiwanese village, occupied Korea, and a decaying Mexican estate, come stories of lives marginalized by sexual orientation and class, and devastated by war and grief. In Kevin Chen's Ghost Town (translated by Darryl Sterk) and by Yu Miri's The End of August (translated by Morgan Giles), the dead tell and reveal many tales, whereas in Gerardo Sámano Córdova's Monstrilio, the dead comes back to life, to horrifying effect. Moderated by Jeremy Tiang, novelist, translator, and playwright.
Yu Miri is a writer of plays, prose fiction, and essays, with over twenty books to her name. She received Japan's most prestigious literary award, the Akutagawa Prize. After the 2011 earthquake and tsunami in Fukushima, she began to visit the affected area, hosting a radio show to listen to survivors' stories. She relocated to Fukushima in 2015 and has opened a bookstore and theater space to continue her cultural work in collaboration with those affected by the disaster. Her novel Tokyo Ueno Station won the 2020 National Book Award for Translated Literature.
About the Festival
The Brooklyn Book Festival returns in 2023 (September 24–October 2) with a thrillingly varied lineup of writers: international and local, for adult and young readers, working in fiction and nonfiction, poetry, prose, and graphic storytelling. New York City's largest free literary festival convenes these illuminating voices in person and online, in conversations revealing the vitality and breadth of literature today, and its capacity to help us see our contemporary world with clarity. Celebrating Brooklyn's spirit as a network of intersecting communities and as a global literary hub and cultural destination, the Festival offers events throughout the five boroughs as well as a wide array of virtual events, continuing to expand its reach to readers anywhere in the world.
The festival kicks off with Virtual Festival Day (Sunday, September 24), a tradition that started in response to the pandemic, but now allows the Festival to welcome authors and audiences from around the world. Having engaged authors who might not otherwise have been able to travel for the event, and having experienced firsthand the power of audiences tuning into conversations from around the world, Brooklyn Book Festival continues to embrace the potential and transformative impact of virtual programming. Virtual Festival Day will open the festival with dozens of national and international authors participating.
The centerpiece Festival Day (Sunday, October 1) takes place in the parks and plazas surrounding Downtown Brooklyn's Borough Hall and other venues, with seven stages overflowing with conversation, as diverse authors of fiction, poetry, non-fiction, comics, graphic novels, and young adult literature come together to converse, read and sign books throughout the day. Pulitzer Prize-winning authors Hilton Als, Toluse Olorunnipa, Robert Samuels, and Colson Whitehead will all be on stage.
At Children's Day (Saturday, September 30), which takes place in Brooklyn Commons in MetroTech, families enjoy a full day of readings, workshops, performances, book signings, and art projects with favorite children's and middle grade authors and illustrators. It's a playdate with authors as kids can get creative with their favorite writers and illustrators at workshops and even get their books signed. Plus, the whole family can find new favorite books at the Children's Marketplace of Books.
Also as part of the Festival's 9-day literary celebration, 50+ Bookend Events organized by dozens of cultural partners will take place in venues in all five boroughs and online and will feature hundreds more authors, reading and performing together. These special events will soon be announced alongside the full list of participating authors and the full Festival Day, Virtual Festival Day, and Children's Day schedules.
For more information visit at:
Brooklyn Book Festival
This event is supported through the JFNY Grant for Arts and Culture.
Featured
Literature Events