Performance
03/20/2022
Washington (DC) & Online
National Cherry Blossom Festival Opening Ceremony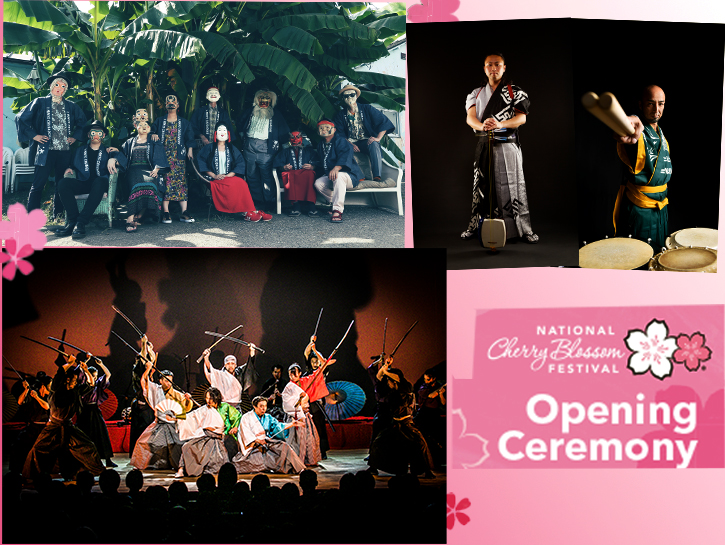 Time & Location
March 20, 5pm-6:30pm EDT
Warner Theater (Washington, DC) & via Livestream (YouTube Channel)
About
The National Cherry Blossom Festival is one of the world's great celebrations of spring. Hosted from March 20 – April 17, the 2022 Festival will include four weeks of events featuring diverse and creative programming that promotes traditional and contemporary arts and culture, natural beauty, and community spirit.
The National Cherry Blossom Festival's signature Opening Ceremony is an artistic celebration of the 1912 gift of trees from Tokyo to Washington, D.C., and an annual tribute to the longstanding friendship between Japan and the United States. This unique, one-time-only performance will feature special performances from acclaimed artists with ties to both countries.
This year, we have invited
MINYO CRUSADERS
,
Keisho Ohno
&
Toshihiro Yuta
, and
Samurai Artist KAMUI
to present at the opening ceremony. (There will be a special performance by
MINYO CRUSADERS
to be held at the National Harbor Plaza on March 19th from 4-5pm (ET).
Tickets are available now at
here
. While tickets for the Opening Ceremony are free, advanced ticketing is required and there is a $5 processing fee. Audiences across the globe are also invited to join in this unique cultural celebration via Livestream on the Festival's
YouTube Channel
.
Featured
National Cherry Blossom Festival
Projects Organized by JFNY