Japanese Studies
06/13/2023
Online
Migration, Identity, and Diasporas at the Intersection of Japan Studies and Global Asias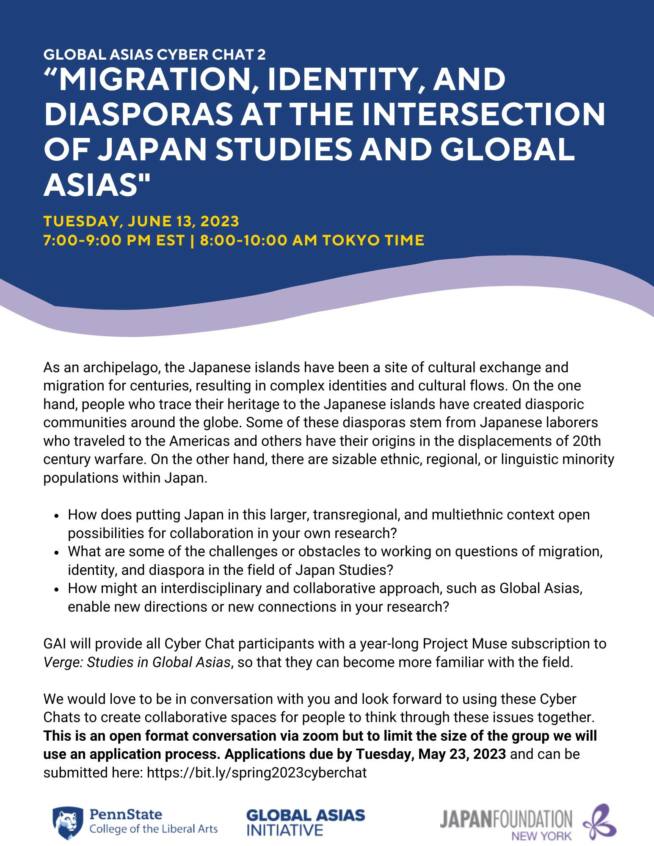 Time and Location
June 13, 2023, 7pm-9pm EST (8am-10am JST)
Online
About
Part of a collaboration between JFNY and Global Asias Initiative (GAI) at The Pennsylvania State University, which will involve a Cyber Chats series Challenges and Opportunities for Global Asias Approaches to Japan Studies in spring 2023, a year-long early career networking project designed to cultivate substantial engagement between scholars in the US and Japan, participation in the Global Asias 7 conference (spring 2025), and eventually a publication in Verge:Studies in Global Asias.
As an archipelago, the Japanese islands have been a site of cultural exchange and migration for centuries, resulting in complex identities and cultural flows. On the one hand, people who trace their heritage to the Japanese islands have created diasporic communities around the globe. Some of these diasporas stem from Japanese laborers who traveled to the Americas and others have their origins in the displacements of 20th century warfare. On the other hand, there are sizable ethnic, regional, or linguistic minority populations within Japan.
How does putting Japan in this larger, transregional, and multiethnic context open possibilities for collaboration in your own research?
What are some of the challenges or obstacles to working on questions of migration, identity, and diaspora in the field of Japan Studies?
How might an interdisciplinary and collaborative approach, such as Global Asias, enable new directions or new connections in your research?
GAI will provide all Cyber Chat participants with a year-long Project Muse subscription to Verge: Studies in Global Asias, so that they can become more familiar with the field.
GAI looks forward to using these Cyber Chats to create collaborative spaces for people to think through these issues together.
This is an open format conversation via zoom but to limit the size of the group there is an application process. Applications are due by Tuesday, May 23, 2023 and can be submitted here.
For more information visit Global Asias Initiative website.
This event is supported through the JFNY Japanese Studies program.