Cultural Event
05/13/2023
New York, NY
Japan Parade / Japan Street Fair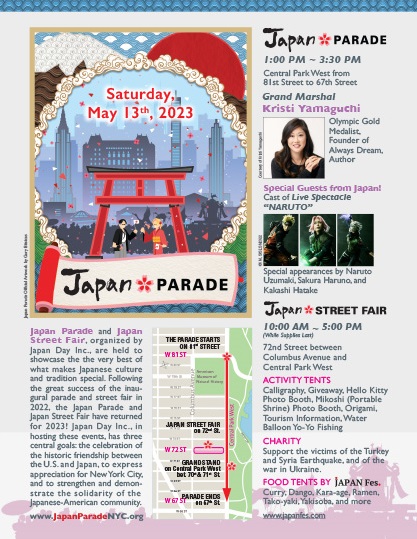 Time & Location
May 13
Parade– Central Park West from 81st Street to 67th Street, 1pm- 3:30pm
Street Fair– 72nd Street between Columbus Avenue and Central Park West, 10am- 5pm
About
Japan Parade and Japan Street Fair, organized by Japan Day Inc., are held to showcase the the very best of what makes Japanese culture and tradition special. Following the great success of the inaugural parade and street fair in 2022, the Japan Parade and Japan Street Fair have returned for 2023! Japan Day Inc., in hosting these events, has three central goals: the celebration of the historic friendship between the U.S. and Japan, to express appreciation for New York City, and to strengthen and demonstrate the solidarity of the Japanese-American community.
For more information visit the Japan Parade website.
This event is supported through JFNY Grant for Arts & Culture grant.