Talk
07/20/2023
Online
Japan-Middle East Relations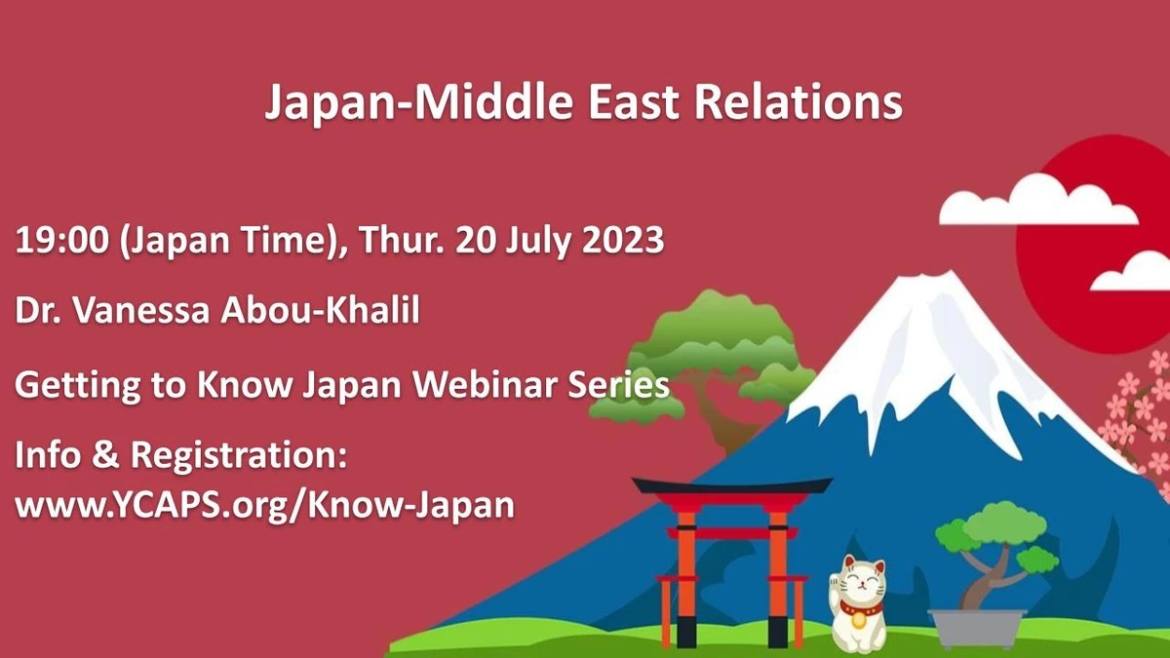 Time and Location
July 20, 6am EDT
Online
About
Dr. Vanessa Abou-Khalil will explain the historical evolution of the Japan-Middle East relationship, with a particular focus on the complications involved in maintaining amicable relations amidst periods of conflict between the United States and the Middle East. She will shed light on pivotal events and conflicts that best highlight Japan's dual challenge of preserving its alliance with the United States while safeguarding its energy interests in the Middle East.
Despite the difficulties encountered, Japan has generally succeeded in sustaining friendly relations with the Middle East, but its lack of political influence has prevented it from being a strong mediator, capable of bridging the West and the Middle East. Dr. Abou-Khalil will examine what Japan's growing political influence means in terms of potential ramifications for the Middle East.
The event will be recorded and published in YCAPS' web archive. Questions are encouraged during the live event.
Speakers
Dr. Vanessa Abou-Khalil is an executive associate at Kreab, Tokyo, a Public Relations Consultancy. She works with a variety of corporate and public sector clients, with a focus on government relations and media relations. Her areas of expertise include Japan's foreign policy, Japan-US alliance, and Japan-Midde East relations. She is also a member of the Research Institute for Indo-Pacific Affairs (RIIPA). Prior to joining Kreab, she worked as a teacher's assistant and gave undergraduate level lectures on Japan Diplomatic History and Contemporary Politics at Kobe University. Vanessa graduated from Saint Joseph University, Lebanon with a Bachelor's Degree in French and Lebanese Law, and is a member of the Beirut Bar Association in Lebanon. She completed her doctoral and master's degrees in Political Science at Kobe University, Japan
Visit Yokosuka Council on Asia-Pacific Studies (YCAPS) website
for more information.
This event is supported through the Japan Foundation New York's Salary Assistance Grant for U.S.-Japan Community Grassroots Exchange Program.