Talk
06/22/2023
Online
Commercial Music and Intergenerational Community in the Toyama City Center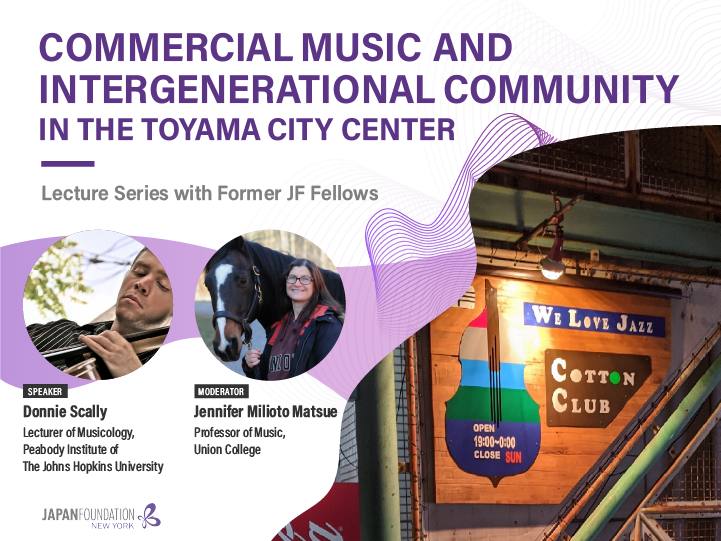 Time & Location
June 22, 7pm ET
Online
About
The Japan Foundation, New York presents Illuminating Japanese Studies: Lecture Series with Former JF Fellows
Since the Fellowship program began in 1972, there have been more than 1,000 American Fellowship recipients, who study a diverse range of research topics, from pre-modern history to pop culture and everything in between. This series will illuminate what exactly Japanese Studies can teach us, not only about Japan but about the world.
Recently, Toyama City, Japan has drawn national attention for its approach to the administrative challenges of governing an aging and shrinking population. Intergenerational connection and elderly residents' continuing contributions to economic and social life are central to the small city's quest for resilience. These priorities are enshrined in a suite of municipal programs termed the Compact City Plan, which includes updates and accessibility improvements to healthcare and transportation infrastructure, economic incentives for businesses to employ older residents, and intergenerational volunteer programs.
This aim to equitably provide for residents' material needs while building strong, supportive communities, ultimately encouraging people of all ages to remain in the city, stabilizing the population. Toyama's Compact City Plan, though novel, is only the political expression of a locally pervasive cultural sensibility. In Toyama City, a commitment to intergenerational connection through collaboration shapes many creative practices, even when such collaborations are not directly incentivized by policy. In this talk, Dr. Scally will discuss intergenerational creative practices among commercial musicians in the Toyama City Center, drawing on first-hand experience listening, performing, and talking with musicians at performance venues specializing in jazz, blues, and related commercial music. This discussion presents an ethnomusicological model for exploring local expressions of attitudes toward aging and intergenerational connections in the production of commercial music.
The discussion will be followed by a live Q&A moderated by JF Former Fellow Dr. Jennifer Matsue.
Please share your questions through your Eventbrite RSVP. You may also participate in the discussion in the YouTubeLive chat during the livestream.
Speakers
W. Donnie Scally received a Ph.D. in ethnomusicology from the University of Maryland, College Park in 2021. In 2019, he received a Japan Foundation fellowship to support research for his dissertation, Sounds of the Compact City: A Musical Urban Ethnography of Toyama City, Japan, which addresses urban musical life, aging and shrinking populations, the environment, and infrastructure change. His ongoing research projects explore urban music making and community, the cultural negotiation of the senses, and sound and embodiment in combat sports.
Jennifer Milioto Matsue is an ethnomusicologist at Union College specializing in modern Japanese music and culture. She has conducted research on the Tokyo hardcore rock scene, nagauta (chamber music featuring the three-string lute shamisen), taiko (Japanese ensemble drumming), Japanese religion and popular music, and Vocaloid Hatsune Miku. She is the author of the monograph Making Music in Japan's Underground: The Tokyo Hardcore Scene (Routledge 2008) and Focus: Music in Contemporary Japan (Routledge 2015), as well as several articles on related topics. She is now embarking on new research entitled The Beat, Body and Brain: Musical Interludes with the Horse, which explores a wide range of ways that horses intersect with music.