Film
06/09/2023 - 08/11/2023
Verplanck, NY
2023 Japanese Film Series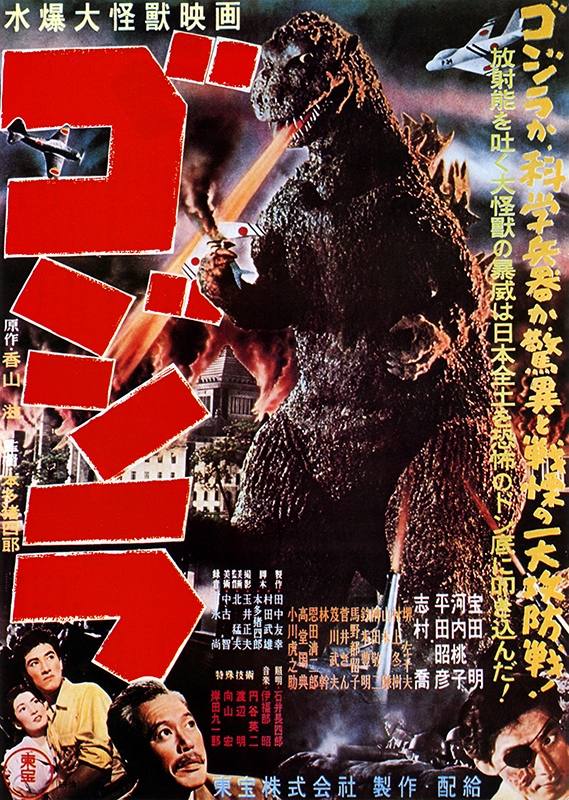 Time & Location
June 9 – Godzilla
July 14 – Princess Mononoke
August 11 – The Taste of Tea
KinoSaito (Verplanck, NY)
About
KinoSaito presents their 2023 Japanese Film Series: Blending Past & Present Cultural Traditions at KinoSaito on Fridays, June 9, July 14, and August 11, at 6 pm. This free lecture, screening, and discussion program will focus on three innovative Japanese features that influenced filmmakers worldwide and impacted cinema history. The series will be held at KinoSaito's St. Patrick's School at 115 7th Street, Verplanck, NY.
The first film to be screened on June 9th is Godzilla (ゴジラ), the 1954 Japanese kaiju film directed and co-written by Ishirō Honda, with special effects by Eiji Tsuburaya. It is the first film in the Godzilla franchise and pioneered a new form of special effects called suitmation in which a stunt performer wearing a suit interacts with miniature sets. Principal photography took 51 days, while effects took 71 days. It spawned a multimedia franchise recognized by Guinness World Records as the longest-running film franchise in history. The character Godzilla has become a global pop culture icon, and the film is noted as one of the best monster films ever made. Pre/post-screening talks will be led by Purchase College, SUNY Professor Joel Neville Anderson, Ph.D., who is a Japanese cinema expert.
On July 14th, Princess Mononoke (もののけ姫), a 1997 Japanese animated fantasy written/directed by Hayao Miyazaki, and animated by Studio Ghibli, will be screened. It is set in the late Muromachi period of Japan (1336-1573 AD) and follows a young Emishi prince named Ashitaka as he struggles between the gods (kami) of the forest and the humans who consume its resources. The term Mononoke is used for describing shape-shifting beings that possess people and cause suffering, disease, or death. Princess Mononoke was the highest-grossing film of 1997 in Japan, and won the Japan Academy Award for Best Picture in 1998. Vassar College Professor/Director of Asian Studies Hiromi Tsuchiya Dollase, Ph.D., whose expertise is in Japanese pop culture, will lead the talks.
The Taste of Tea (茶の味), which will be screened on August 11th, is a 2004 Japanese comedy-drama by writer and director Katsuhito Ishii. Its plot revolves around the eccentric Haruno family who live in a rural town north of Tokyo. Father Nobuo is a hypnotherapist who teaches his son Hajime to become a great Go player, but Hajime has difficulty interacting with girls. Mother Yoshiko works on animation projects with assistance from grandfather Akira, who is a retired animator. Young daughter Sachiko often sees a giant-size double of herself and tries to get rid of it. Uncle Ayano, a sound engineer, comes to visit and influences Sachiko with his tales. The Taste of Tea was listed in the 2012 Sight & Sound critics poll as one of the greatest films ever. Dr. Anderson will lead the pre/post-screening talks.
All film presentations are free, but require advanced registration.
For tickets and more information visit the KinoSaito website.
This event is supported through JFNY Grant for Arts & Culture grant.