Cultural Event
08/26/2023
Brooklyn, NY
2023 Japan Village Summer Festival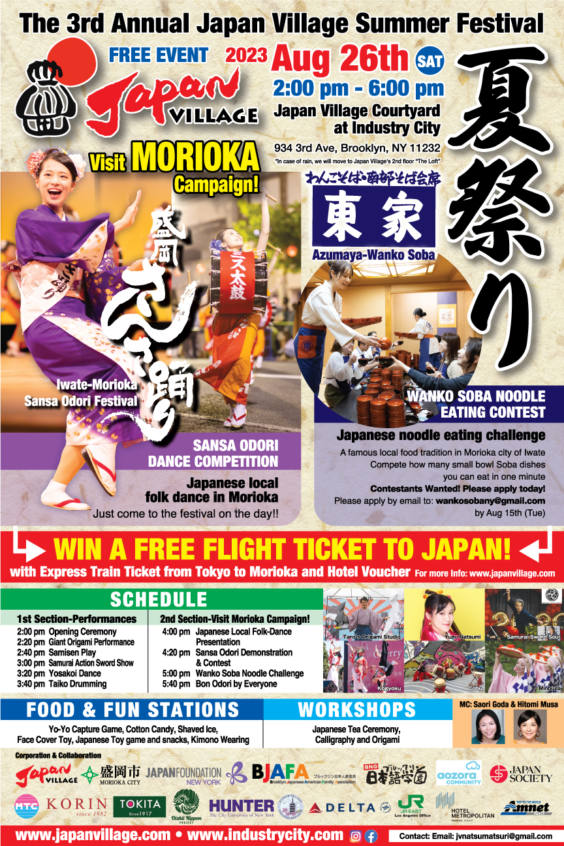 Time and Location
August 26, 2pm- 6pm
Japan Village Courtyard (Brooklyn, NY)
About
Japan Village is celebrating their 3rd annual summer festival! Natsumatsuri is a traditional Japanese summer festival. Japanese people have celebrated and enjoyed summer festivals for generations with the Japanese traditional Bon Dance, Mikoshi Carrying (Portable Shrine Carrying), Japanese Taiko drums, etc. Japan Village Natsumatsuri offers traditional shows as well as fun traditional Natsumatsuri games and foods! Yo-Yo Fishing, Cotton candy, Shaved Ice, Traditional masks (Omen), and much more!
In addition, there will be special guests from Japan. It is the Morioka city Campaign Group of Iwate prefecture, the northside of Japan. Morioka city was listed as second after London on The New York Times' list of 52 Places to Go in 2023, Morioka city will host a Visit Morioka Campaign! at the festival. The Morioka local folk-dance team will perform Morioka Sansa Odori. The Morioka city group will also introduce and demonstrate the traditional local food "Wanko Soba". At the Natsumatsuri, there will be a "Wanko Soba eating contest". If you are interested, please join the Wanko Soba eating contest.
Let's celebrate the summer at the Japan Village Natsumatsuri together!
For more information visit the Japan Village website.
This event is supported through the Japan Foundation New York's Education Grant.