Film
09/10/2022 - 11/06/2022
Wilmette, IL & Online
Asian Pop-Up Cinema Season 15 – Japan Cinema Showcase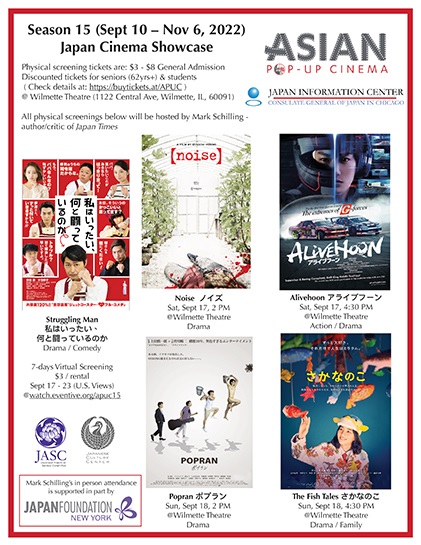 Time & Location
September 10–November 6, 2022
Wilmette Theater (Wilmette, IL)
&
Online Screening (only for Struggling Man on Sept 17)
About
Season 15 screenings will pop up in downtown Chicago and the north suburbs, including Niles and Wilmette; select films will be available for online streaming. The festival's presentations in theaters during the weekends will feature films by region: China (September 10-16, Claudia Cassidy Theater and online), Japan (September 17 – 23, Wilmette Theater), South Korea (September 24 – October 2, AMC Niles 12), Taiwan (October 22-23, Illinois Institute of Technology), and Hong Kong (October 29 – November 6, FACETS and AMC New City 14).
Among the 31 films screening at the festival, 4 will be shown online 27 films are going to be presented in person. The upcoming festival includes 3 World premieres, 2 International premieres, 10 US premieres, 3 North American premieres, 7 Midwest premieres, and 6 special encores.
For more information visit Asian Pop Cinema website.
Reservation and tickets can be procured here.
This event is supported through the JFNY Grant for Arts & Culture.
Featured
Film Screening Event